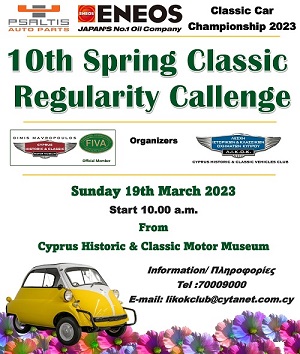 It is the beginning of the  2023 Psaltis – ENEOS Classic Car Championship
On Sunday 19th March 2023, L.I.K.O.K is organizing the 10th Spring Classic Regularity Challenge
The event marks the start of the 2023 Psaltis – ENEOS Classic Car Championship.
In addition to classic vehicles (over 25 years of age, non-classic vehicles can take part to the event.
This year's start and finish will be at Cyprus Historic & Classic Motor Museum premises, in Limassol
The event starts: at 10:00 a.m. (10:01 a.m. first car starts)
Road Βooks: will be ready and can be received by all the participants from Thursday , 16th March 2023, after 15:00 h.
Entries close on Thursday, 16th March 2023 at 18:00.
Entry forms will not be accepted after this date.
Participation fee: € 70 per crew (food & drinks included) for LIKOK members and € 75 for non- LIKOK members.
For any further information or queries please contact LIKOK at tel:7000900 and email: likokclub@cytanet.com.cy