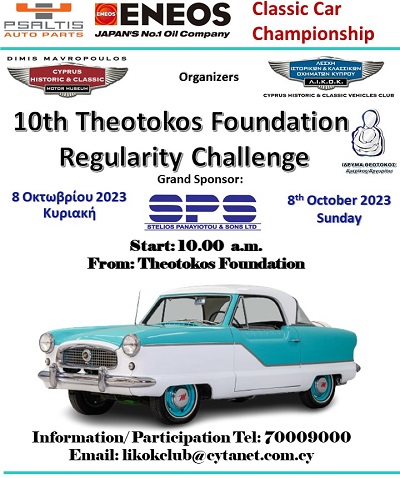 Continuing our efforts for financial support of Theotokos Foundation/ Americos Argiriou, the Cyprus Historic and Classic Vehicles Club (L.I.K.O.K.) is organising the Theotokos Foundation Regularity Challenge for a tenth consecutive year.
Grand sponsor of the event, like all the previous years is SPS Stelios Panayiotou & Sons Ltd.
The 10th  Theotokos Foundation Regularity Challenge will be held on Sunday 8th October 2023.
The event is part of the PSALTIS AUTOPARTS – ENEOS MOTOR OIL Classic Car Championship 2023.
The event will start from the Theotokos Foundation Americos Argyriou at 10.00 and finish at the City of Dreams Mediterranean at 13.00. Lunch will be at the premises of Cyprus Motor Museum at 13.30. It will be broadcasted and promoted by most Cypriot TV stations and local media. Media sponsor is RIK.
Like all the previous years, L.I.K.O.K. will donate all the net proceeds from the event to Theotokos Foundation/Amerikos Argiriou