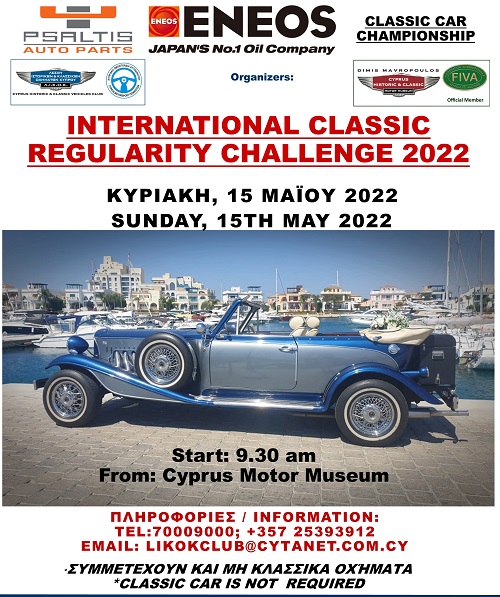 The event starts: at 9.30 a.m. from the Cyprus Historic & Classic Motor Museum and the finish is at 13.30 at Paphos Gardens Hotel.
The route goes through villages of the Paphos region and finishes back in Paphos for lunch and Awards Ceremony.
Halfway, at the beautiful village of Omodos, there is a 30 minute coffee break.
Food is a buffet lunch at the hotel. The food for driver and co-driver is included in the entry fee, € 75 for LIKOK members and € 80 for non-LIKOK members.
Any additional passenger is € 20 euro per person and for children below 12 years old is € 15.
Drinks will be charged extra.
Road Βooks: will be ready and can be received by all the participants from Thursday, 12th May2022, after 15:00 hours.
Entries close on Thursday, 12th May 2022 at 18:00.
Entry forms will not be accepted after this date.
For any further information or queries please contact LIKOK at tel:7000900 and email: likokclub@cytanet.com.cy
Looking forward to seeing you all.