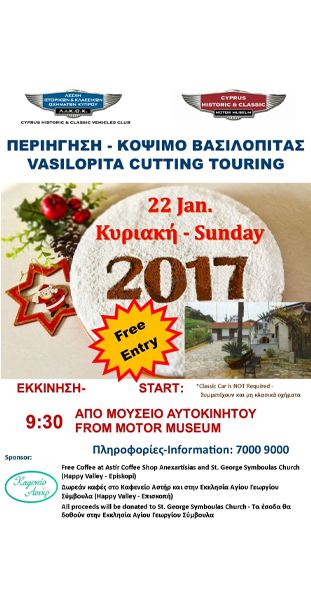 Likok Club is inviting you to the Tour of Vasilopitta cutting on Sunday 22nd of January 2017.
It will be a Touring event without competition timing and special stages.
The start will be at 9.30 from the Cyprus Historic & Classic Motor Museum's premises. The cars in convoy driving will be directed to the city center where it will be a stop for 45 minutes for coffee. Next, the route will be directed to George Symboulos Church in Happy Valley with a stop of 45 minutes, tour and coffee. Finally, we will then have lunch and the vasilopita cutting at Episkopi Village Inn Taverna.
The proceeds from the event will be given St. George Symboulos Church.
The participation fee is FREE. The price for the meal for two member crew is 40 euro for L.I.K.O.K. members and 45euro for non- L.I.K.O.K. members. For each additional person over 12 years the fee is 20 euros and 10 euros for children under 12 years old.
The above participation fee includes:
1. Coffee, tea and snack at the stop points, (Astir Cafe and George Symboulos Church)
2. Rich buffet menu including soft drink or beer
3. Organization costs
Classic cars are not mandatory any ALL CARS can be used.
Participation entries will close on 20th of January 2017.