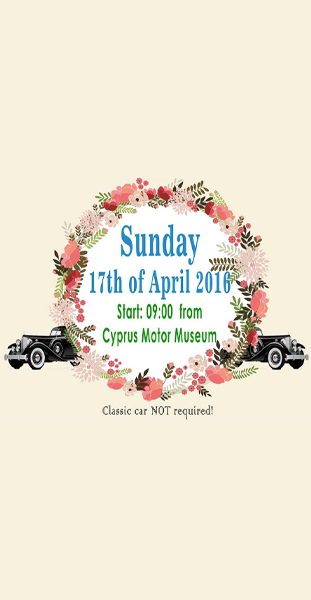 The Cyprus Historic and Classic Vehicles Club (L.I.K.O.K) with great pleasure is organising the Spring Touring Rally on Sunday 17th of April 2016.
The start of the Spring Touring Rally will be at premises of Cyprus Historic & Classic Motor Museum at Epimitheos Str., at 09:01 am. The rally will start with a special driving skills test for driver & co – driver and then the route will include Limassol villages, stop for coffee at Petra tou Romiou area and the finish will take place at Omodos, where we will have a rich buffet lunch, followed by the participation awards and trophies.
On Saturday April 16, from 15:00 to 17:00 there will be secretarial and informative presentation for the competitive part and regulations of the Touring Rally at the offices of the Cyprus Historic and Classic Motor Museum in Epimitheos Str., 3056 Limassol.
The participation fee for two member crew is 55 Euro for members L.I.K.O.K. and 60 euros for non-members L.I.K.O.K. For each additional person over 12 years the fee is 20 Euros and 10 Euros for children under 12 years old.
The above participation fee includes:
1. Coffee, tea and snack at the starting point,
2. Rich buffet menu including unlimited drinks
3. Participation Award and tour completion diploma
4. Competition Awards for each category
5. Participants Insurance
The Cyprus Historic & Classics Motor Museum will provide classic cars from its exhibits to be used for the rally at a predetermined minimum donation, as described at the attached document.
Entries will close on 15th of April 2016 at 13:00.
For any further information or clarification please contact the L.I.K.O.K. club, at 7000 9000, 99252626 or on the email: likokclub@cytanet.com.cy